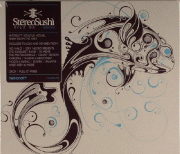 Artist : VA
Album : Stereo Sushi Volume 14
Label : Stereo Sushi
Cat. Nr : STUSHCD14
Genre : Funky/Club House
Year : 2008
Tracks : 24
Playtime : cd1: 76:00 cd2: 77:22
Size : 206,0 mB
CDDA / LAME 3.97 (Final) / VBRkbps / 44,1kHz / Joint-Stereo
:: T R A C K L i S T ::CD1:
01. Sonny J Mason - Life is the Music (Random Soul Stripped Vocal Mix)
02. Chick 2000 - Love Tonight (Knee Deep Mix)
03. White Soul Project - Give In
04. Domu Presents Pete Simpson - Look A Little Further (MuthaFunkaz 12" Vocal Mix)
05. Steven Stone Feat. David Bruce Whitley - Free To Go (Central Avenue Classic Remix)
06. No Halo - Put Your Hands On (Richard Earnshaw Mix)
07. DJ Fudge Feat. Mani Hoffman - Keep On (The Layabouts 2008 Regroove Mix)
08. Soulstar Syndicate Feat. Michelle Weeks - Love 4 Love (Soul Buddha Real House Remix)
09. DJ Memé Feat. Gavin Bradley - Chanson Du Soliel (Sun Is Coming Up) (DJ Memé Original Mix)
10. Danny Clark & Jay Benham Feat. Angie Brown - Attracted to You (Original Vocal Mix)
11. Bobby D'Ambrosio Feat. Kelli Sae - Love Forever More, Amen (Grant Nelson Special Edit)
12. Joey Negro Presents The Sunburst Band - Journey To The Sun (Album Version)
CD2:
01. Reel People Feat. Darien - Upside (Karizma's Old's Kool Remix)
02. Shawn Christopher - Don't Lose The Magic (Baggi Begovic & Soul Conspiracy Remix)
03. Andy Holder Feat. Erik Dillard - Jump For Joy (Central Avenue Remix)
04. Fanatix Feat. Kadija Kamara - Wake Up
05. MAS Collective Feat. SuSu Bobien - Joy
06. Stacy Mallory Feat. Gerideau - Changes (Fanatix Remix)
07. Reggie Hall - Something Better (Muthafunkaz Mix)
08. Reel Sessions - Take Me (Reel Sessions Classic House Mix)
09. Rachel Claudio - GOTCHA (Nassau Remix)
10. Joey Negro - Love Hangover (DJ Spen Club Mix)
11. Studio Apartment Feat. Yasmeen Sulieman- Sun Will Shine
12. Shuya Okino Feat. Diviniti - Shine (Mood II Swing Club Mix)
:: i N F O ::
Stereo Sushi returns for one last outing before the year comes to an end. Version 14 is here and continues the assault on "Hi Fidelity Soulful House Music, Fresh From The Deep". Renowned worldwide for his fantastically detailed hand drawn illustrations, the prestigious Si Scott is back on board with yet another creation taken straight from the deep.
Eagerly anticipated, this indulgent collection of finest soulful house, spread over two delectable courses is here to prove that only the finest ingredients make the grade.
Pass:
B44z58Az
URL :
http://www.inteligweb.com.br/compartilhamento